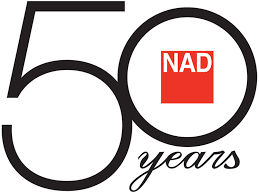 NAD was founded in 1972 in England by Dr. Martin L. Borish. When NAD's gregarious Managing Director, Marty Borish, hired the company's quiet genius of an audio engineer, Bjorn Erik Edvardsen, the NAD magic began to percolate. Soon this creative team saw a space in the market for a new category of affordable, high-quality electronics. Sure, there were high performing amplifiers, but they often came with a lot of extraneous features that bloated their cost. Edvardsen believed he could make an affordable amplifier that utilized state-of-the-art engineering by focusing solely on the essentials for good sound. Young people wanted in on this hi-fi experience too and affordability was an issue! This revolutionary concept became the ethos that would drive NAD to produce some of the most storied products of a generation.
Edvardsen began testing new ways to combine and configure transistors, wiring, and the like, to create the pair's first amplifiers – prototypes that had yet to be identified as NAD products. These first units were a bit crude in their design and manufacture, but they sounded better than comparable amplifiers in their price range. Almost right away, these early prototypes captured the attention of audio enthusiasts, distributors, and critically, some investors, and paved the way for NAD.
Initially headquartered in London, UK, NAD's growing team of engineers, led by Edvardsen, obsessively experimented and refined the electronic designs, seeking that eureka moment when they knew they had a winning design. This culminated in the ultimate reward for the engineers and the brand – the distinction of creating the best-selling hi-fi amplifier in history, the NAD 3020. This was a turning point for NAD; a point when both Edvardsen and the NAD brand developed a cult-like following that has remained loyal to NAD products and solutions ever since.