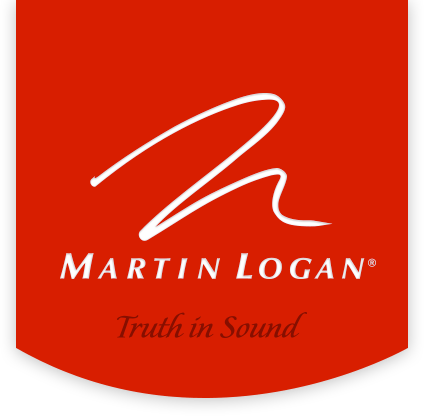 MartinLogan was founded by Gayle Martin Sanders and Ron Logan Sutherland. MartinLogan "just sounded better than SandersSutherland," Sanders explains. (Apparently they never considered GayleRon.)
The two met in the late '70s at a high-end audio store Sanders managed in Lawrence, Kansas. Despite very different backgrounds—Sanders had trained in architecture and advertising, Sutherland in electrical engineering—they shared a passion for music and, they soon discovered, electrostatic loudspeakers.
For anyone seeking the ultimate in sonic purity and clarity, electrostatics held enormous appeal. Unfortunately, designing and building one that will also produce the sound levels and bass extension most people expect from a loudspeaker is a formidable challenge, even today.
Sanders and Sutherland were convinced they could do better. They were sure they could build an electrostatic speaker that would produce adequate bass, output, and sound dispersion without arcing, blowing up amplifiers, or otherwise offending people not interested in a living-room science project. Sanders organized a small research and development team to transform an original design he had tinkered with for more than a decade into a practical, marketable electrostatic transducer.....
 Perfect Bass Kit:
Stand-alone room correction kit for the best bass possible.
Works with BalancedForce 212, BalancedForce 210, and Dynamo (600X, 800X, 1100X, and 1600X).

Even when a MartinLogan subwoofer is ideally placed, the dynamics of each listening environment present a unique challenge for bass performance. The Perfect Bass Kit (PBK) learns vital information about your unique space, transforming the subwoofer's performance for perfect bass, every time. 
$129.00
SWT-2 Wireless Subwoofer Kit:
Although correct placement plays a key role in optimizing subwoofer performance, sometimes it imposes the inconvenience (not to mention unsightliness!) of running long lengths of cable through walls, along baseboards or under floors and carpets. To solve the problem, you can make any subwoofer wireless with our SWT-2 kit (digital RF transmission), making cable clutter a moot point!
Features:
Kit includes wireless transmitter and receiver for use with any powered subwoofers
Compatible with any brand of subwoofer with mono or stereo RCA inputs
Wireless range: up to 40 feet
16-bit/48kHz resolution/sampling rate
Operates on 2.4GHz wireless band
Includes AC adapter for each unit
 $299.99

ARC Mobile is easy, the results are astounding

(Available for iOS and Android)
ARC Mobile allows you to optimize your ARC enabled speakers by using either the internal microphone of the iOS and Android devices (for basic room correction) or an optional calibrated microphone (for better results). Optional calibrated microphones, which connect via the headphone jack (iOS) or USB (Android), are included with select MartinLogan products. Please refer to the product user manual to see if one is included. The ARC Mobile app is available for free.
Compatible With Dynamo 600X, 800X, 1100x and 1600X.
SUBWOOFER SETUP HAS NEVER BEEN SO SIMPLE

(AVAILABLE FOR iOS AND ANDROID)
Let's face it. Adjusting subwoofer controls has always been a cumbersome task. With MartinLogan's Subwoofer Control App, this has changed. Now, listener's can effortlessly adjust subwoofer settings without leaving their listening position. Achieving perfect blending with a subwoofer has never been this easy.
MartinLogan's Subwoofer Control App uses a Bluetooth connection with a compatible subwoofer to effortlessly adjust subwoofer settings in real time. MartinLogan's Subwoofer Control App is available for free to iOS and Android users.
Compatible With Dynamo 600X, 800X, 1100x and 1600X.