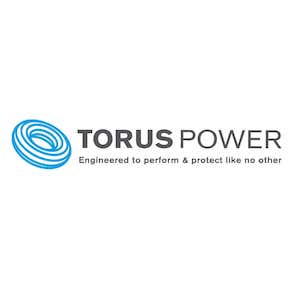 Please contact us for information and pricing on any other Torus Power products.
Torus Power products can only be sold in store or in the Toronto GTA.
Thank you.
Torus Power is a Canadian Company founded in 1983 as parent company Plitron. Headquartered in Toronto, the company builds power-supply transformers for Bryston, Krell, Mark Levinson, and Pass Labs amplifiers. At the time, Bryston also marketed a line of Plitron freestanding Power Isolation Units (PIUs) under the brand name Torus Power that combined surge suppression with AC-line noise filtering to provide clean AC power and protection from voltage spikes.
Torus Power now manufactures three TOTs: the six-outlet TOT Mini, with a maximum current input limit of 7A, a power rating of 805VA, and a weight of 25.5 lbs; the eight-outlet TOT Max (15A, 1725VA, 50 lbs); and the six-outlet TOT AVR (10A, 1200VA, 35.2 lbs). The TOT AVR is 48.9 lbs lighter, 6.5″ narrower, 2.5″ shallower, 2.3″ shorter, and cheaper than the Torus Power RM20. Unlike the RM 20 and the two other TOTs, the TOT AVR can also regulate the AC line voltage so that it remains at 120V, ±5V.

Nearly a decade ago, Torus Power's All In One Toroidal Isolation transformer panel was conceived and today, it remains one of the best-selling units for studio applications, commercial projects, and large, luxury home installation where clean power is a must to ensure the performance quality of the high-end audiovisual and control systems. Delivering consistent, clean power, the All In One unit eliminates power surges, sags, and brownouts that affect the performance and longevity of AV components. The All In One is an easy choice for home technology professionals, commercial integrators, and studio designers, to improve the performance of any system. It's also incredibly easy to install, which helps remove any resistance the AV integrators might face from electricians.