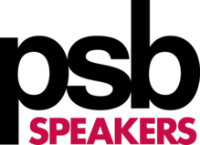 PSB Speakers was founded in 1972 in Waterloo, Ontario by Paul Barton. The company is named after Barton and his wife Sue.
At a young age, Paul found his calling in acoustics design, encouraged by his father who was a hi-fi enthusiast himself and who had a knack for cabinetry. The father-son duo would often assemble speakers of Paul's design in the family's garage, experimenting with various shapes, sizes, and arrangements of drivers and cabinets.
In high school, Paul worked at a hi-fi shop next to the University of Waterloo, where he assembled speaker kits that he would sell to students at a price they could afford – the students just needed access to a Robertson screwdriver and a soldering iron to piece together the speakers themselves. The kits were a hit and Paul soon registered a business to produce these kits, naming the company PSB Speakers, short for Paul and Sue Barton (Sue being his high school sweetheart and wife of over 50 years).
The demand for the speaker kits was so high that in 1972, Paul had to recruit two friends to help him out, and this trio became the company that would soon go on to pioneer "The Canadian Sound".