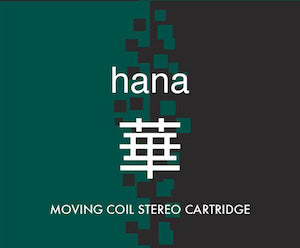 Masao Okada-san, who began researching phono cartridge design in 1964, opened the Excel factory in Tokyo in 1970. His skills and expertise have been shared with the artisans employed by Excel Sound who build HANA cartridges.

Excel has been building cartridges for other companies for many years.
Excel Sound Corporation developed the HANA MC cartridge, combining their 50 years of cartridge design with parts manufacturing expertise using modern industrial technologies. Excel realizes these designs with high quality materials and long established hand assembling techniques for the most musical sound quality.

Excel Sound artisan builders hand assemble all the parts into a perfectly finished product. This precise hand assembly and the fine adjustments by Excel Sound's renown craftsman achieve the consistent "brilliant and gorgeous" HANA sound.
HANA phono cartridges are constructed of delicate parts, carefully hand assembled by skilled craftsman, and laboratory tested at the Japanese factory. This ensures both very high reliability and durability, providing years of musical enjoyment.
In 2015, it was very fortunate to once again meet Masao Okada-san, founder of Excel Sound, who I had the pleasure of knowing for almost 40 years. With the renewed interest in LP playback, Okada-san developed the HANA line of moving coil cartridges for our exclusive export. We are privileged to be partners with Excel Sound and without our long-standing friendship, HANA moving coil cartridges would never have been launched.
The HANA "brilliant and gorgeous" sound is now globally available to all music lovers, without an extreme financial burden on your equipment budget. Indeed, a HANA purchase allows you to buy more of your favourite vinyl records - which is the real reason for buying a good phono cartridge in the first place!  
Hiroshi Ishihara, Youtek Corporation
Sorane was founded as "IT Industry" in April of 1974 by Katsuaki Ishiyama-san.
The company was named after his father, "Takeo Ishiyama".  Their first contract was polishing head shells by surface grinding by himself alone. The company now has 21 employees, including his daughter and son in law. 

Sorane manufacture tone arms for several tone arm brands.
All parts are designed and manufactured in house by their own machine tools, including CNC milling machine center, and manual tool room lathe. Some parts with large diameters (30 – 60mm), and extremely complicated parts, only producible by compound CNC machining with "live tooling", are produced by sub-contractors.
The assembly and tuning of our tonearms are made by our craftsmen for ideal mechanical contact, without rattling or play, by hand polishing. Sorane (Abis) are IT Industry original products, and all parts are machine tooled, not die-cast.